Services
Punctuality
Time is the most precious asset at this age. At Daewoo, safety of this asset is guaranteed. Punctuality & regularity is the key feature of our service, which is assured by leaving no stone unturned in making timely departures and arrivals. The passengers are valuable to us, so as their time.
Audio / Visual Entertainment
Daewoo is committed to make your journey full of comfort & excitement. Traveling starts with recitation of ¡®Journey Prayer', followed by Audio Visual Entertainment including: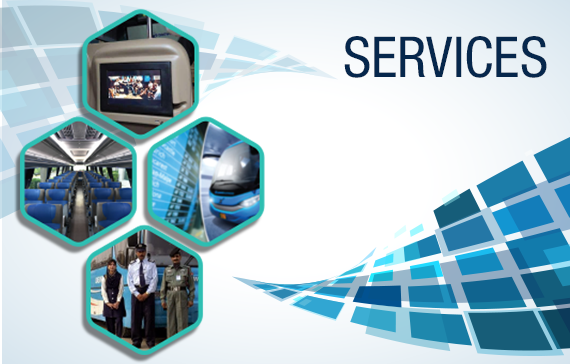 • Audio Songs.
• Family Movies, Dramas, Songs and Documentaries.
• Switching System with Multiple Choices of Audio & Video.
• All esteemed daily Newspapers are also available in the bus.
• Provision of Head Phones with every seat for an undisturbed enjoyment.
Luxury Buses
Add comfort to your journey by traveling through our luxury buses. Buses are equipped with:
• Comfortable and spacious seats.
• Latest audio visual technologies.
• Online tracking system.
Apart from this, a calm and peaceful environment is maintained in the bus for a luxurious traveling.
Luggage
Every possible support is available for carrying personal luggage while traveling. Please be aware that depending on local regulations, certain items which may cause injuries may not be taken on board in your carry-on baggage. Following are some available facilities:
• Luggage upto 30-kgs can be carried by each passenger.
• In case of extra luggage, ELT facility can be availed.
• Attachment of luggage tags for safety and security.
• Luggage is handled by trained loaders.
• Porters providing free service.
Courteous & Trained Crew
Our courteous and trained crew is responsible for a safe & luxurious journey. We are pioneer of introducing the concept of road hostess in the bus. Crew, which consists of Driver, Hostess and A Guard, is selected and trained in a manner to handle its duties professionally.
Newspapers & Magazine
Passengers can add to their joyful moments during the journey by reading latest newspapers and informative, entertaining and educational contents presented in Daewoo Magazine i.e. Destinations addition of which has been admired on large basis by valuable customers.